2019/2020 Season
Mixed Group Quail Hunting Events for 1 or 2 Hunters
3-Day Package including 3 nights and 2 -1/2 days of Vintage Georgia Quail Hunting
$4,325.00 per person – private room – all inclusive
---
Pine Hill Plantation offers a series of 3-day Package Quail Hunting Events for hunters who travel in pairs or alone. Enjoy similar wild quail habitat that our private hunt groups enjoy… but without having to put together your own group of 4 or more.
You will enjoy our beautiful Georgia plantation lodges and gourmet dining with a mixed group of other hunters.
In the field, you will be grouped with 4 hunters in a hunt party and will be guided by your Huntmaster, Assistant Huntmaster and Wagon Driver. You will have the choice of riding the mule-drawn wagon or riding horseback. Hunters shoot two at a time while the other two hunters observe.
Event Dates for 2019/2020 are listed below:
October 18 – 21, 2019 – Season Opening Event
November 8 – 10, 2019 Kevins Game Fair Event – special 2 day/2 night event – only $3,095.00 per person (take another $100.00 Off with proof of purchase for 1 day attendance at the 11/8/19 Kevins Game Fair at historic Greenwood Plantation – Thomasville, GA – only 40 miles from Pine Hill Plantation)
November 22 – 25, 2019 – Thanksgiving Event
December 19 – 22, 2019 – Pre-Christmas Event
December 27 – 30, 2019 – Holiday Break Event
January 3 – 6, 2020 – New Years Holiday Event
February 1 – 4, 2020 – Super Bowl Event
February 13 – 16, 2020 – Valentines Event
February 20 – 24, 2020 – Shooting Sportsman Magazine "Readers & Writers Hunt" –

special 3 day/4 night event – $5,175.00 per person

March 9 – 12, 2020 – Spring Break Event
Service included with above rates:
Arrival Day
Check-in at 4:00 PM on day of arrival (transportation not included)
Warm-up round of clays at the skeet range or 5 stand
Cocktails & Dinner
Lodging
Day 1 and Day 2
Breakfast
Morning hunt (you will be 1 of 4 hunters) with one mule-drawn wagon, horses, guides, and dogs
Lunch
Afternoon hunt (you will be 1 of 4 hunters) with one mule-drawn wagon, horses, guides, and dogs
Cocktails & Dinner
Lodging
Preserve hunting license
Day 3
Breakfast
Morning hunt (you will be 1 of 4 hunters) with one mule-drawn wagon, horses, guides, and dogs
Preserve hunting license
Lunch / Departure (transportation not included)
Quail will be dressed and freeze-packaged in soft coolers on the day of your departure
Additional Services available:
Transportation to and from Bainbridge, GA airport
Transportation to and from Tallahassee, FL airport
Orvis and Beretta Pro Shop purchases
---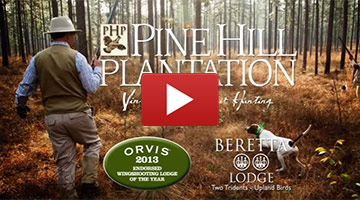 ---
* A 50% non-refundable deposit is required to confirm a reservation.
* TThe balance is due 60 days prior to your arrival date. If a cancellation or decrease in the number of hunters or lodge reservations or length of stay occurs, it will be necessary to give a 30 day notice in writing or by e-mail, or the fees will be charged according to the original reservation.* 7% Georgia sales tax is required to be charged in addition to the above rates
Methods of payment:
Deposits and Balance prior to arrival are payable by check. Deposits by credit card will be charged a 3% service charge.
Pro Shop purchases, shells and other incidentals may be paid by AMEX, Visa, Mastercard, Discover Card, check or cash at departure.
We recommend that you present tips directly to the staff in cash. However, you may also include tips with any other incidentals to be paid by credit card, check or cash at departure.
For Vintage Georgia Quail Hunting reservations, contact us at:
reservations@pinehillplantation.com – or – 1.229.758.2464